Apple sold over 15 million iPads in 2010, and demand for the iPad 2 appears to be even stronger.  IDC predicts that 44.6 million media tablets will ship in 2011, and Apple should continue to dominate in market share. In addition, Apple shipped over 15 million iPhones last year. Enterprises are gearing up to support executives and sales teams that are leaving their laptops at their desk and choosing both tablets and smart phones as their primary computing devices.
Unfortunately the Apple iOS devices do not support Flash. This is causing a problem for those who wish to access and view webinar replays and on-demand training content.  To make matters worse, these new devices are increasingly adopted in the executive suite.  These executives tend to view webinars and event replays on the weekend when they are away from a traditional PC and viewing in what Apple calls 'lean-back' mode.  (In fact, BrightTALK reports that forty percent of executives view webinar content in the evenings or on the weekend.)
What's our solution? Coreography has been delivering its event replays in Flash, and now offers fall-back support to HTML 5 so that your recordings will play on mobile devices. The chart below shows you the breadth of devices this approach supports: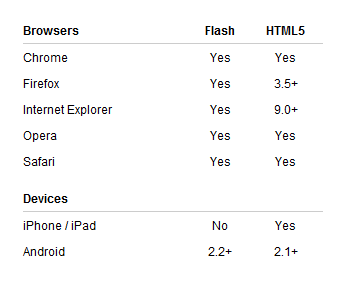 So if your using WebEx, GoToWebinar, Live Meeting, or another Flash-based solution, and need a webinar recording that your audience can actually view on any device, please give us a call. We can create recordings from your existing archives and capture high-quality, optimized recordings of your next webinar or webcast.