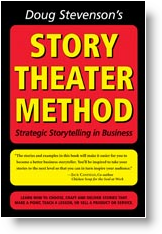 As part of our effort to bring a repeatable, scientific methodology to our web seminars we have been reading alot of literature on presentation development .
Currently I'm reading Doug Stevenson's Story Theater Method; Strategic Storytelling in Business. This is a guidebook that shows how to mine your own life stories to help you connect with an audience.
Right away, Doug makes this point:
The key to becoming an effective speaker is to be authentic. The goal is not to change who you are, it's to remain true to who you are. To do otherwise is to lose your power. Your power lies in your unique personality and style.
Doug goes on to talk about how actors connect IN to connect OUT to an audience. They go inward to pull from their own reservoir of emotions and experiences. If they do this well, they bring the character to life and the audience connects to them.
This approach is very different from the audience-focused presentation style most of us learned.  Here the speaker adjusts his presentation and delivery based on the audience's verbal and non-verbal cues, trying to read the audience so they – the presenter – can connect to them.
Doug does not say you should ignore the audience – but the time to pay attention to their needs is before your presentation when you are preparing content, selecting which stories to share, and practicing your delivery.
This method of presenting – connecting IN to connect OUT – translates well to a webinar.
By definition you are physically separated from the audience, but that does not mean that you cannot deliver a powerful presentation and have the audience connect to you.  The strongest webinar speakers do connect IN, and their passion, enthusiasm and knowledge energize even the most dry or technical subject matter.
This is the essence of authenticity.