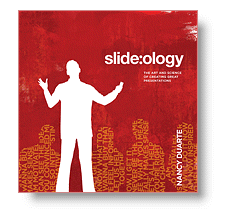 The question "How much time do I need?"  comes up alot in the context of preparing for a webinar.  What tends to happen is the presenter has a slide deck in hand and they wait until the week before to really start considering the audience needs and reviewing the content.  It's not until the webinar practice session a few days before the presentation that they see what others are presenting and get any feedback on their slides.  Due to time constraints, there is only time for slides corrections.  So how much time should you spend on presentation creation?
Presentation authority Nancy Duarte, author of the book Slideology and principal at Duarte Design (clients include Apple, Cisco, and Al Gore among many others),  puts it this way;
"The amount of time required to develop a presentation is directly proportional to how high the stakes are."
Duarte goes on to provide this guidance:
6-20 Hours Research & collect input from the web, colleagues, and the industry
1 hour Build an audience-needs map
2 hours Generate ideas via sticky notes
1 hour Organize the ideas
1 hour Have colleagues critique or collaborate around the impact the ideas will have on the audience
2 hours Sketch a structure and/or a storyboard
20-60 hours Build the slides in a presentation application
3 hours Rehearse, rehearse, rehearse (in the shower, on the treadmill, or during your commute)
Total Time: 36-90 hours
At first glance this may sound like too much time, but when we started tracking our own content development time for new presentations we found this to be fairly accurate. When you already have a presentation, tailoring it for a specific audience will eliminate some of the up-front time, and in many cases you will be able to re-use slides/slide layout with only minor modifications.  Still, you will be looking at 30 hours to put together a quality presentation and be comfortable with its delivery.