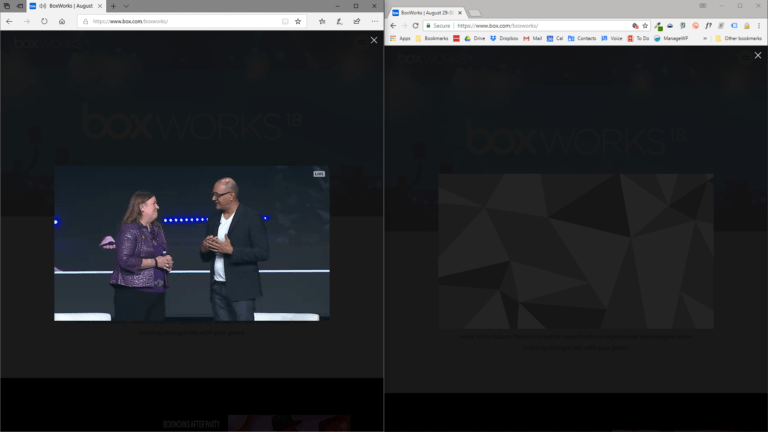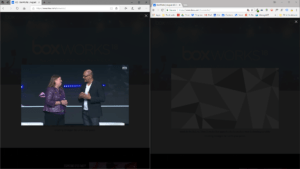 One of the keys to delivering a successful live webcast is to thoroughly test your solution end-to-end.  One great feature of  most video webcast solutions is the ability to embed a live stream on your own web page where you can deliver a consistent viewer experience that reinforces your brand and leverages your web investment.  But it does put more responsibility on your team to test the integration.
Box is an enterprise-focused secure file share, storage and collaboration solution. It is an excellent service and the company is a leader in the space. A few weeks ago I attended the Boxworks 2018 webcast which was hosted on their own web site. Unfortunately when I went to join the webcast I got the blank page (as shown above in the browser pictured on the right). That would scare away most viewers, but since I was curious I tried to determine what was wrong.  What did I find? The stream was working fine in Firefox and IE as pictured on the left.
The root of the problem could be the player, but I suspect it was the shadow box that the web designers were using to display the video feed. The only way to be sure would be to do a bit more testing.
The takeaway?
Even though embedding a live stream in a web page is straight-forward, you need to test it across browsers and with a live stream running!
Box may or may not know they had this problem but you know it had an impact on viewership, and any post-event analysis will not properly reflect the true reach of what was an excellent online event.