I had a very enjoyable evening last night as a panelist on the SVAMA's "Integrating Video Into Your Marketing" event.
There was an enthusiastic and attentive audience as Jeff Severtson delivered his presentation that showcased how Adobe uses video in its marketing. Then the panel took questions from the audience and we had a good discussion, particularly since we brought a variety of perspectives – large company versus agency, in-house versus out-sourced.  It was interesting to see on how many points we were in agreement as well.
One slide Jeff shared was particularly eye-opening; he highlighted what you should expect to spend on your video production, and commented that most of Adobe's productions were in the high-end of the sweet spot.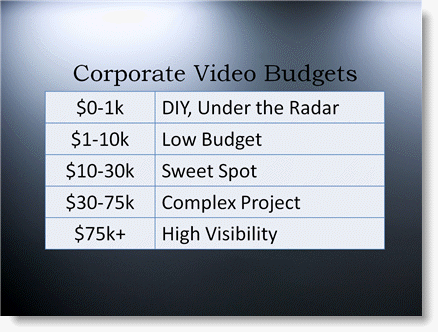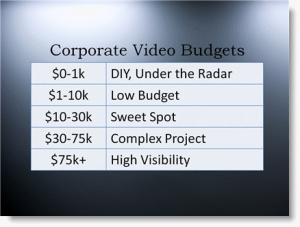 All of our event and webcast productions fall into the Low Budget to Sweet Spot while we consistently maintain broadcast-news quality production values. How do we do this?  We leverage your existing presentations and events and capture the knowledge and enthusiasm of your in-house experts. This reduces content development costs (in essence they are already funded in another program or budget, so we do not need to create new scripts and story boards) and spokesperson costs. And nothing is more authentic than your own employees sharing their knowledge. With your webcast video in-hand, you can turn this into shorter clips that you can use across all your marketing channels and share via social media.
Of course, there is room for both approaches in your marketing, but its good to know that not all your video has to be expensive to be good!