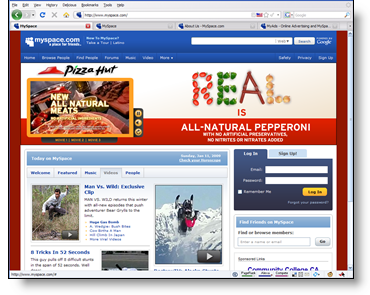 As reported by Yahoo,  MySpace Mobile is launching a streaming video service to deliver video in multiple formats to multiple devices.  The focus today is on reaching iPhones, but the service is designed to be carrier and device agnostic.
This announcement in itself is not such a big deal for B2B-focused enterprises, but I think it continues the trend where employees, partners and customers expect to be able to access video-based training, tutorials, demonstrations and product communications.  I know from my personal experience that one of the first things I look for when evaluating a vendor is an online product demo. Then I know if its worth exploring further with a sales rep.
Rich media communications will increasingly be integrated into every type of text document – quick start guides, help screens, product briefs, case studies, testimonials, etc. – so that users can choose how they want to receive the information.
I think the biggest question mark is not if this will happen, but if it is company-driven or user-driven. Marketing communication professionals may not be prepared – time, skills and budget – to support this effort quickly enough. If a vacuum exists, users may step-up and fill the void.
Thoughts?