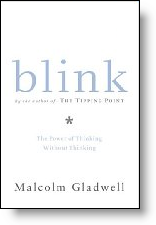 I just finished reading Malcomb Gladwell's Blink, which is another fun read. I found two chapters in particular relevant to delivering effective video presentations.
For the record, I am not a psychologist, so if you are, and what follows does not make sense, please set me straight by leaving a comment.
In essence, modern psychology is giving our "adaptive unconscious" more and more credit for making sense of what we see and hear and filtering the information without the need for conscious, higher-level thinking. This is both good and bad. It means we can effectively process and evaluate situations readily using only "thin-slices", but we also unconsciously impose cultural bias and situational influences into our judgments.
What do I mean?
First, the research shows that we are pretty good at judging others in just a few seconds to a few minutes. We can read faces and tell when the delivery is sincere and truthful, and when it is fake and deceptive. We may not be able to tell you why, but our unconscious will sense a disconnect between what we see and what we hear. Video gives us both the visual and audio input to make that judgment.
Now the bad news is that we also bring a lot of bias – cultural, experiential, and situational – to these judgments. Gladwell uses the example of the performer that was praised as the most outstanding trombonist in a blind audition. When this happened in 1980, orchestras were still dominated by men, and it was commonly believed that you could tell the difference between how men and women played the same instrument. When they were introduced to Abbie Conant, a woman, they were in disbelief. Clearly if it had not been a blind audition, Conant would not have been selected.  This is one case where visual, video communication can work against you.
And how receptive we are is impacted by other, situational circumstances. In fact, you can influence other's behavior by "priming" them with words. Gladwell cites an NYU experiment where two groups of students were primed with words and then sent off to reception to get their next assignment. One group was exposed to words like "aggressively","rude","bold". "bother", and "intrude". The other group was exposed to words like "respect","considerate","patiently","polite", and "courteous". When they arrived at reception, the attendants were engrossed in a personal conversation with a fellow employee. The group exposed to the aggressive words interrupted on average after 5 minutes, while 82% of the group exposed to the polite words did not interrupt at all. (The experiment was stopped at the ten minute mark.)
Now I understand why they start playing good, upbeat music 10 minutes before the band takes the stage.  And how music lead-ins to presentations can 'prime' you to be more receptive to the presentation.  It makes you think we ought to be doing more than show dial-in telephone numbers before our web seminar's start.
For more information, I recommend reading "Blink" or visiting Malcomb Gladwell's website.