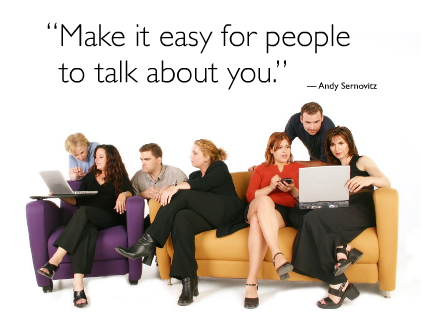 The quote 'Make it easy for people to talk about you' says it all.
I had the opportunity last year to meet Andy Sernovitz when he spoke at the Silicon Valley AMA.  Guy Kawasaki gives his typically entertaining presentation right after.
Andy has been involved in the  Word of Mouth Marketing Association (WOMMA) and wrote the book 'Word of Mouth Marketing – How Smart Companies Get People Talking'.
We think both live and on-demand webinars have a role to play in b2b word of mouth marketing.
Facilitating word-of-mouth is one more reason why editing your webinars so they can be easily consumed on-demand makes good business sense.  You should also leverage your initial content investment by creating multiple short-form video out-takes to support word of mouth marketing efforts.
Bill
Additional resources: